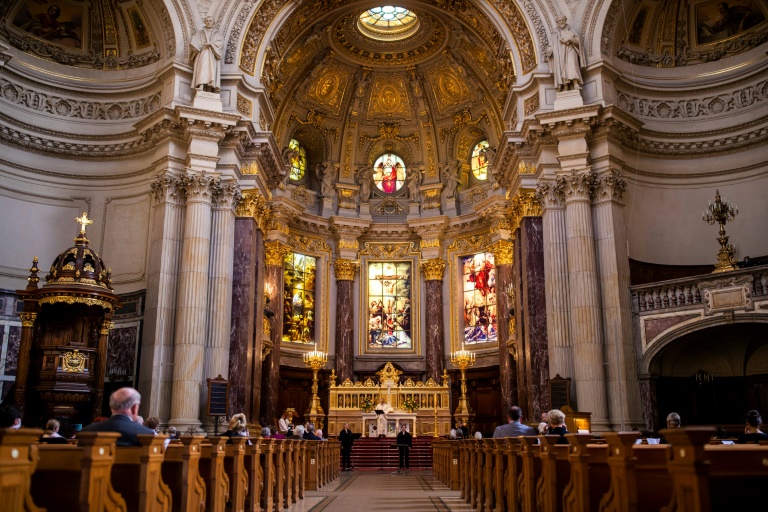 The Coptic Orthodox Cathedral and 100 churches reopened in Alexandria on Monday, welcoming Coptic worshipers to attend the first divine liturgy after a suspension lasting over four and a half months.

Prime Minister Mostafa Madbouly had issued an order to shut down churches since March 21 as part of the state's plan to confront the coronavirus through preventing crowds.

Coptic churches held their first masses amid strict measures, where groups of young volunteers were assigned to sterilize entryways and cleanse the floors and wooden sitting ducks, to maintain public health and enable Copts to safely practice their religious rites.
Father Abram Emil, the papal agent in Alexandria, said that Monday was considered a Coptic holiday for the resumption of pastoral and religious activities after 130 days of suspension.
Three divine masses are held daily at separate timings from six am to eight am, from 8:30 am to 10:30 and from 10:30 am to 12 pm so that everyone can attend, Emil said.
Attendees need to make a reservation through phone calls before attending the church, he added.
Emil added – in exclusive statements to Al-Masry Al-Youm – that the church sets a certain number of attendees in each mass at 25 percent of church capacity due to the current epidemiological situation.
He explained that "In principle, there will be one individual on each bench and entry will be permitted according to the capacity of each church separately."
The purpose of the church secretarial groups will be to inform Coptic worshipers the timings for church masses, he added, while other groups are assigned to disinfection and organizational tasks.
Emil explained that these organizing groups are assigned to maintain social distancing, limit worshiper movement during mass, and ensure every attendee comes with a mask and a disinfectant.
The papal representative pointed out that the Coptic Orthodox Cathedral in Alexandria put eight strict regulations to resume the divine liturgy prayers in the various Orthodox churches within Alexandria.
These include banning hugs, leaving after the mass immediately, not touching the sacred icons inside the cathedral and other churches, and each person adhering to their specified spot with no movement during prayers.
Edited translation from Al-Masry Al-Youm