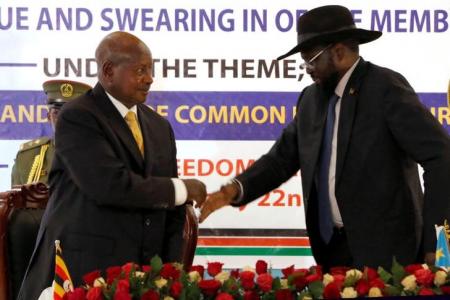 East African leaders said late on Monday they would try and push South Sudan's warring sides to revive collapsed peace efforts and delay elections currently scheduled for August next year to a more realistic date.
Heads of state meeting in Ethiopia said they would set up a forum where the rivals could discuss ways of restoring a ceasefire more than three years into an ethnically-charged civil war that has plunged districts into famine.
The forum would be set up urgently, leaders from the East African bloc IGAD said, without specifying when or what form it would take.
Fighting broke out at the end of 2013 after President Salva Kiir sacked his rival Riek Machar as vice president, just two years after South Sudan's independence from Sudan.
After numerous failed peace deals, Kiir and Machar signed a power-sharing pact in August 2015, agreeing to a transitional government and elections.
But that deal stalled and Machar left the country.
IGAD said on Monday their new forum would include "estranged groups" and discuss ways of implementing the peace deal.
The forum would also develop a "revised and realistic timeline and implementation schedule towards a democratic election at the end of the transition period," IGAD added in a statement.
South Sudan's new vice president, Taban Deng Gai, had asked Monday's meeting to bar Machar from any future forums. Gai also said elections should go ahead as planned – a position initially backed by Yoweri Museveni, the president of South Sudan's neighbour Uganda, according to diplomats at the talks.
But the delegates finally decided warring sides would be invited and it would be "too premature" to stage the vote given the current levels of violence, diplomats said.
The war has split the impoverished country along ethnic lines, often between Kiir's Dinka group and Machar's Nuer. It has also nearly halved oil production and fueled Africa's biggest cross-border refugee crisis since the 1994 Rwandan genocide.
The United Nations has said the violence amounts to ethnic cleansing and risks escalating into genocide.
Reporting by Aaron Maasho; Editing by Andrew Heavens – Reuters
Editor's note:  File Photo shows South Sudan's President Salva Kiir (R) and Ugandan President Yoweri Kaguta Museveni at the opening of the National Dialogue committee in Juba, South Sudan, on  May 22, 2017 (Jok Solomun / Reuters).