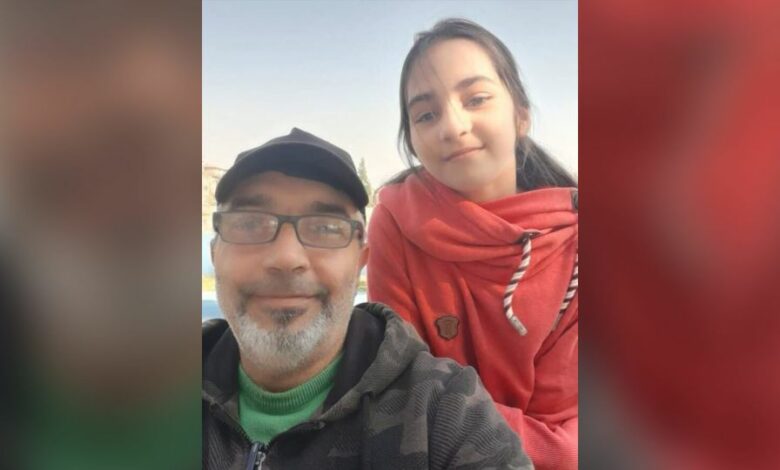 Abu Dhabi, UAE
CNN
 —  "She used to jump up and down like a butterfly. Now, she is psychologically broken."
Samer Sharif, 51, is talking about his 15-year-old daughter Salma, who witnessed the death of her brother and mother in the February 6 earthquake, and who for several days believed was orphaned before unexpectedly being reunited with her father.
After the earthquake struck, Sharif was told that Salma, her 10-year-old brother Mohammed and his ex-wife had all died.
Standing before the building that collapsed on top of his family, in Antakya, southern Turkey, Sharif said that he "met with death at that moment."
"There is nothing left in Antakya. It's all gone," he told CNN.
After sleeping on the streets for two days, Sharif left for Istanbul where he stayed with his sister and her husband.
While there he received some rare good news – his daughter was alive, and recovering in hospital.
The father and daughter were re-united, and while they were relieved, they will never be the same – especially Salma.
And Salma is not the only one.
Around 4.6 million children were living in the 10 Turkish provinces hit by the earthquake, according to UNICEF, and an additional 2.5 million children were affected in neighboring Syria.
UNICEF added that families with children are sleeping in the streets, malls, schools, mosques, bus stations and under bridges, all afraid to sleep indoors should more aftershocks bring buildings down.
"I saw a lot of traumatized kids in Antakya," said 37-year-old Bilal Kazak, a Kazakhstan-born Turkish citizen who lost his mother and sister in the earthquake.
While food, tents and caravans with some heating have arrived in the days following the earthquake, says Kazak, there still isn't enough mental health support, especially for children.
Speaking to CNN's Zain Asher, a spokesperson for Save the Children relief organization in Turkey, Oben Coban, said that victims are showing clear signs of post-traumatic stress disorder (PTSD), especially children, many of whom have been left without parents.
"What we are also seeing is that those children who have lost their education, their families, their hopes, they are now struggling to find a reason to keep themselves in this world," said Coban.
"At the moment, the only thing that can keep them in their lives is hope for the future."
Relived trauma in Syria
For victims in Syria, the earthquake is another crisis amid a devastating 12-year civil war.
Children and families who were recovering from PTSD and ongoing trauma from the scars of war are back in survival mode, Dr. Alexandra Chen, a trauma psychologist treating earthquake victims, told CNN.
"For people who have slowly begun to recover and regain a sense of normalcy and rebuilt their lives over the last decade, this has been terrifying and destabilizing for both children and adults," said Chen. "Some are still in denial while others are experiencing hallucinations."
The United Nations estimates over 30,000 lives have been lost in the Syrian civil war. People were already struggling to rebuild their lives, while thousands fled the country seeking refuge in nearby countries.
While a semblance of routine had been established before, Chen says the situation has now changed.
"Prior to the earthquake, therapy was not emergency-based, and we had the time and the space to process very difficult things, especially for those who have experienced torture and sexual violence," she said, adding that "we're back in emergency mode."
Chen says that aid workers are also struggling. Between losing their own family members and homes, while rescuing people from the rubble, their mental health has deteriorated amid the ongoing rescue efforts, she said.
Aid workers say that the mental health struggles are clear and are happening amid needs for more food and shelter.
Repeated aftershocks
Making matters worse, the risks of further tremors have not gone away.
"Many people do not feel comfortable living inside (intact buildings)," said Arlan Fuller, director of Emergency Response & Preparedness at Project Hope, a US-based non-profit, non-governmental organization that supports healthcare workers in times of crisis. Fuller and Project Hope are currently on the ground in Gaziantep.
"I've heard and seen many situations where people do not want to go back inside," Fuller told CNN, "Or when they are inside, they are constantly focusing on the chandelier, waiting for it to move."
Many children are clinging to their parents and can't let go, he added, noting that repeated aftershocks only act as triggers.
Aftershocks continue to be felt across Turkey. Just on Monday, a magnitude 6.3 aftershock struck Turkey's southern Hatay province, near the Syrian border, killing at least six people and injuring hundreds.
The Turkish Red Crescent previously said it is providing "psychological first aid" to both adults and children impacted by the earthquake, reported the state news agency Anadolu. These include therapy sessions, as well as psychosocial support tents set up by the ministry of family and the ministry of health, added Anadolu.
Salma, 15, remains distraught. She spends most of her time on her phone and refuses to properly eat, her father Samer says.
"She wants to buy those little hot wheels car toys that Hammoudeh (her brother Mohammed's nickname) loved to put them on her shelf to look at them and remember him," said Sharif.
"I keep trying to make her laugh, but it's not like before."