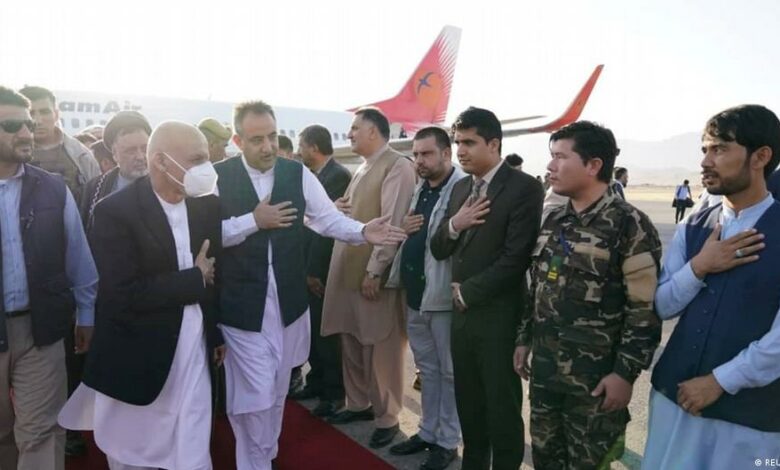 Afghan President Ashraf Ghani flew to the besieged northern city of Mazar-i-Sharif on Wednesday, in a bid to rally forces.
He plans "to check the general security in the northern zone," according to a statement released by the palace.
The Afghan leader was also likely to hold talks with Mazar's long-time strongman Atta Mohammad Noor and infamous warlord Abdul Rashid Dostum about the defense of the city.
Hours before Ghani arrived, pictures posted on official government social media accounts showed Dostum boarding a plane in Kabul, along with a contingent of commandos, en route to Mazar.
The loss of Mazar would be a further blow to the Kabul government. It would represent the almost complete collapse of its control over the north of the country.
The region has long been a bastion of anti-Taliban militias.
Taliban seize 3 more provincial capitals
The Taliban overran three more provincial capitals in Afghanistan, officials said on Wednesday. A total of nine of the nation's 34 now are in control of the insurgents.
The cities to fall are: Fayzabad, the provincial capital of northeastern Badakhshan province; Pul-i-Khumri, of Baghlan province, also in the northeast and Farah, the capital of the western province with the same name. Badakhshan borders Tajikistan, Pakistan and China.
Jawad Mujadidi, a provincial council member from Badakhshan, told Reuters news agency that Taliban fighters had taken most of the province and laid siege to Fayzabad before launching an offensive on Tuesday.
Kabul could fall "within 90 days"
The Taliban's quick succession of gains has prompted US officials to warn the collapse of the Afghan capital, Kabul, could happen sooner than expected, according to a report in the Washington Post.
One unnamed official told the Post that the US military now thinks that collapse "could occur within 90 days."
This represents a revision from an earlier intelligence assessment, predicting the capital could fall into the hands of the Taliban within six to 12 months, the report stated.
Other officials told the Post that Kabul could fall within one month.
"Everything is moving in the wrong direction," another person who is familiar with the US military's new intelligence assessment said.
The Taliban have been emboldened by the US and international allies' complete drawdown of troops in the country. Despite the worsening outlook, US President Joe Biden has shown no plans to delay the August 31 deadline for all US forces to leave.
On Tuesday, he urged Afghan leaders to "fight for themselves."