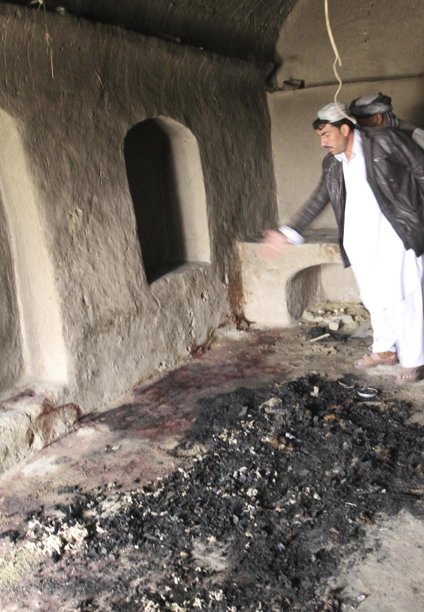 President Hamid Karzai appeared to stiffen his resolve on Saturday not to sign a security pact with Washington, saying the United States should leave Afghanistan unless it could restart peace talks with the Taliban.
"In exchange for this agreement, we want peace for the people of Afghanistan. Otherwise, it's better for them to leave and our country will find its own way," Karzai told a news conference.
The president said pressing ahead with talks with the Taliban, in power from 1996-2001, was critical to ensure that Afghanistan was not left with a weak central government.
"Starting peace talks is a condition because we want to be confident that after the signing of the security agreement, Afghanistan will not be divided into fiefdoms," he said.
Most diplomats now agree that Karzai is unlikely to sign the Bilateral Security Agreement (BSA) that would allow for some form of US military presence in Afghanistan after the end of 2014, when most troops are due to leave.
Along with reviving peace talks with the Taliban, Karzai is also demanding an end to all US military operations on Afghan homes and villages, including strikes by pilotless trones.
The United States has threatened to pull all of its troops out unless a deal is signed in good time, but embassies are examining alternative solutions behind the scenes that would enable the NATO-led mission to remain.
Karzai's defiant tone struck a chord with those in the West who have already decided that further discussion with the Afghan president may be pointless and waiting for his successor to be elected is the best option.
"The more people speak about it being signed after the election, the more irrelevant he becomes," said one diplomat. "Sad as it is, we might have to bank on the next guy."
But representatives from some countries say this would not leave enough time for them to prepare for a post-2014 mission. Afghans are due to vote in a presidential election on April 5, but it could take weeks for Karzai's successor to assume power if a run-off round is required.
Karzai initially agreed to a text of the pact in November and an assembly of elders called on him to sign it. But he has since refused to sign.
In his comments to reporters, the Afghan president also denounced the use of advertising – some paid for by the United States – that lobbies for signature of the BSA.
"To harm the psyche and soul of the people of Afghanistan, there is serious propaganda going on," said Karzai, referring to the advertisements broadcast for weeks by local media but now taken off the air.
"No pressure, no threat, no psychological war can force us to sign the BSA. If they want to leave, they should leave today. We will continue our living."