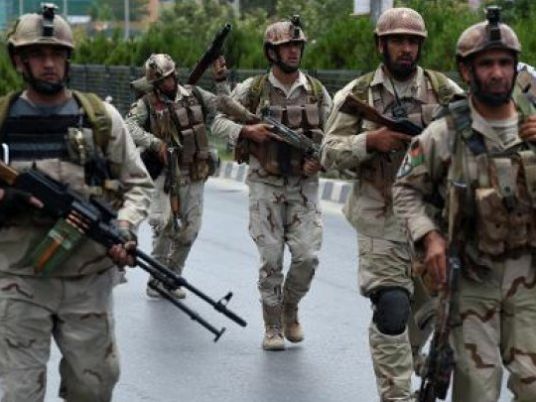 Soldiers from the U.S.-led NATO coalition have joined an Afghan army campaign to try to stop a Taliban advance in Helmand province that has undermined hopes of a negotiated peace.
Nearly 14 years on from the U.S. invasion that toppled the Islamist regime after the Sept. 2001 attacks, the Taliban are making gains. On Wednesday the Helmand district of Musa Qala fell to the Taliban for the first time since 2007.
"The deputy defence minister is in Helmand right now and an operation is ongoing in full force to retake the district," said Dawlat Waziri, a defence ministry spokesman.
NATO's Resolute Support coalition said U.S. aircraft had dropped bombs on Musa Qala nine times in the past 24 hours, and that some foreign soldiers were helping on the ground.
"Resolute Support service members are training, advising, and assisting elements of the ANDSF (Afghan military) operating in Musa Qala," said spokesman Col. Brian Tribus.
Peace talks collapsed last month after it was announced that Taliban leader Mullah Omar had died two years before.
The announcement was followed by a series of deadly attacks in the capital, and Taliban offensives around the country.
"If your enemy feels stronger day by day, it is hard to sit them down for peace negotiations," said Graeme Smith, a veteran Afghan analyst at International Crisis Group.
"If the government wants to get them to the negotiating table, it needs to stop them taking towns."
The fall of Musa Qala comes shortly after the Taliban grabbed the neighbouring district of Nawzad. Combined with a third district to the north, the Taliban now sit on a big chunk of Helmand, controlling lucrative opium production and major routes into Iran and Pakistan used to smuggle heroin to Europe.
The Pentagon identified two U.S. soldiers killed on Wednesday by a man in Afghan military uniform who shot at their vehicle as special operations airmen Capt. Matthew D. Roland and Staff Sgt. Forrest B. Sibley.
Seeking to shore up acting Taliban leader Mullah Mansour's support to fend off a splinter group led by Omar's son, the Taliban's media wing has released a series of slick videos of fighters pledging allegiance to Mansour after military victories.
Another film this week showed a gathering of fighters in the north sitting atop U.S.-supplied Humvees captured from Afghan forces.
The insurgents also released a victory song on the website SoundCloud called "Long live Musa Qala" to commemorate the recapture of the town of 20,000 people they held for seven months until British and Afghan forces wrenched it back in 2007.
The defence ministry said the fighting had killed or wounded 150 Taliban, with six soldiers killed and four wounded. In a statement, the Taliban claimed that up to 40 soldiers were killed when they overran police and army posts around Musa Qala town.