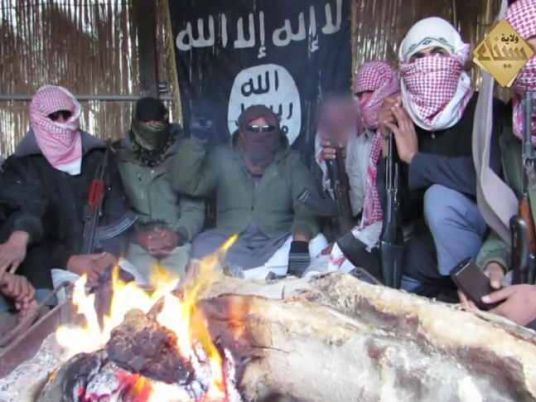 Anonymous militants slaughtered a woman and kidnapped her family on Monday, in the village of Yamait, near the northern Sinai city. The woman was killed while trying to stop the kidnap attempts targeting her family.
According to a North Sinai-based journalist who preferred to remain anonymous, the slaughtered woman 'Eman El Eissawy' was trying to prevent anonymous militants from kidnapping her husband and three children; as a result militants decided to slaughter her and complete the kidnapping operation.
The anonymous militants are believed to be members from the IS-affiliated group 'Sinai Province' that has engaged in numerous kidnapping operations against residents stationed in North Sinai's cities of Rafah, Sheikh Zewaid and Al-Arish, the journalist added.
On reasons behind the rising kidnapping operations against residents, the journalist noted that the 'Sinai Province' commits on a regular basis such kidnappings against civilians, as they believe those kidnapped are police and army informants.
The incident is the third one to take place against a woman in North Sinai; earlier, anonymous militants opened fire against a woman called Maha Abu Raqie and killed her in front of her husband in the same city of Rafah.
Moreover, a young lady has been killed recently in the North Sinai city of Al-Arish by anonymous militants for similar reasons related to espionage activity in favor of the security apparatuses there.
Since 2014, the Sinai Province group, also known as 'Ansar Bayt El Maqdis' has engaged in violent attacks against police and army stationing points in North Sinai and carried out kidnappings against civilians.
The group military activity is not only restricted against the army, police and civilians; recently, the group has engaged in clashes with North Sinai's leading tribe of 'Al Tarbyeen', which managed to kidnap militants from the group and burned one them in response to suicide bomber attacks against its headquarters in Rafah city.
In the aftermath of the clashes with Sinai Province, Al Tarbyeen tribe released a statement in which it called on all North Sinai's tribes to unite, in order to stand as one entity against Sinai Province.
In response to the statement, the state-run Dar El Ifta indicator to monitor extremist views praised Al Tarybeen's call and said that unity of Sinai tribes against IS and their co-operation with army and police are all steps on the right path.
The Dar El Ifta indicator's statement reiterrated that a number of leading Sinai figures have recently announced their co-operation and alliance to face IS members there; among these tribes Al-Tarbyeen, Al-Tayha, El Rmyllat and Al Sawrka.