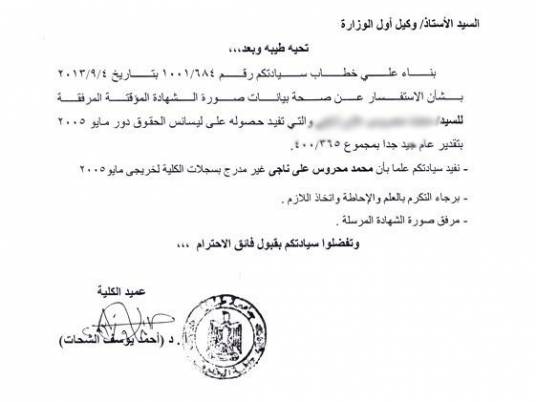 Assistant Interior Minister for Public Funds Nagah Fawzy said that Mohamed Mahrous Ali Nagy, legal adviser to the former Red Sea governor, was arrested on charges of fraud.
Fawzy added that Nagy is an ex-convict that was accused in the 13 con cases and that he had been recommended for the post by deposed President Mohamed Morsy, Mohamed Mahsoub, former Minister of State for Legal Affairs), and Refaa al-Tahtawy, Morsy's chief of staff.
Nagy had allegedly presented a forged certificate of graduation from Tanta University in 2005 and received a Ph.D from the Arab Academy for Legal Sciences. He was the first to be appointed legal adviser from outside judicial circles, which violated rules regarding the matter.
He received a monthly salary of LE3,000 with free accommodation in a Hurghada hotel and free plane tickets from Alexandria to Hurghada in return for three days of work per month. Morsy later raised his salary to LE22,000 although there were others who were more senior than him.
He kept important documents in his home relating to problems between the municipality and certain investors. His possession of the documents at home violated Article 77 of the law stipulating that prohibits official documents from being kept outside the place of work.
His contract was cancelled after 30 June and the fall of the Muslim Brotherhood.
Edited translation from Al-Masry Al-Youm