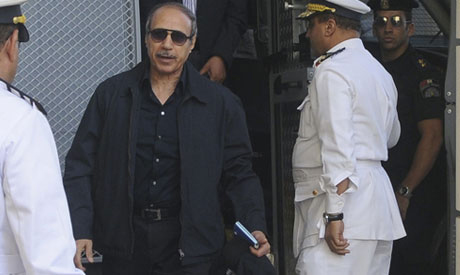 The Cairo Criminal Court listened on Wednesday to the testimony of Mubarak-era Interior Minister Habib al-Adly, in the case known in media as the "storming prisons" case.
Adly said that before the January 25 revolution, the Interior Ministry spotted meetings in Beirut between Muslim Brotherhood leaders Mohamed al-Beltagy, Saad al-Katatny and Hazem Farouk, and the Islamic Resistance Movement Hamas that "aimed to bring Egypt down".
According to Adly's testimony, Hamas elements used Bedouins to cross the borders into Egypt. They were equipped with weapons to break into prisons, he added.
Adly explained that he ordered the arrest of all Brotherhood leaders who participated in the January 25 protests and the "Friday of Anger" on January 28. He added 30 Muslim Brotherhood leaders were arrested by then.
According to Adly, the aim of storming prisons was to bring down the Interior Ministry in order to overthrow the regime.
Adly said 23,000 prisoners other than the Muslim Brotherhood detainees at the time were able to flee prison.
According to Adly, toppled President Mohamed Morsi, who was a Muslim Brotherhood leader at the time, escaped prison and made a phone call with Al Jazeera channel.
A Brotherhood leader threatened police officers at one of the prisons before the storming incident, stating that they would be released from prison, said Adly.
Muslim Brotherhood leaders, including Morsi, Supreme Guide Mohamed Badei, Deputy Supreme Guide Rashad Bayoumy, former MP Katatny, Essam al-Erian, Mohey Hamed and 20 others, are being tried over charges of storming and plotting to storm prisons during the January 25 revolution. Morsi, Badei, Bayoumy, Katatny, Erian, and Hamed were sentenced to death, and 20 defendants were sentenced to life in prison by the Criminal Court over the case; however, the Court of Cassation revoked the sentence and ordered their retrial.
Edited translation from Al-Masry Al-Youm.