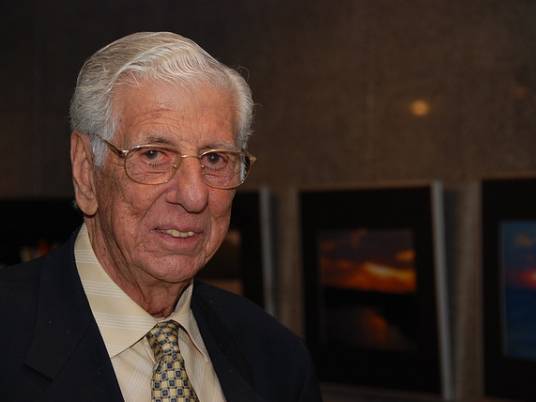 Adel Gazarin, a prominent figure in Egypt's automotive industry, has played an important role in the field since its beginning in the 1950s, a period that witnessed the development of state-owned heavy industries.
Born in 1926 in the coastal city of Alexandria, Gazarin was the youngest of his siblings and always the youngest in his class. He graduated at the top of his class in 1946 with a bachelor's degree in mechanical engineering, from what was then called King Farouk University and is now known as Alexandria University.
Sent to Zurich for his postgraduate studies, he obtained a doctorate in power plants at a time when Europe was recovering from the harsh aftermath of World War II.
"Our monthly stipend as students was sufficient in postwar Europe, so I travelled all over. I read, learned languages, started my longstanding hobby of photography and discovered how to live independently, away from my family for the first time.
"I learned a lot from the Swiss people: discipline, dedication and precision at work," Gazarin recounts in his book "Snapshots from My Life: Forty Years in Egypt's Industry."
Upon returning to Egypt in 1952, he was appointed professor of automotive engineering at Alexandria University. Five years later, Aziz Sidky, a staff member at the university who would become Egypt's first industry minister, invited him to join the ministry.
Gazarin left teaching, a job he deeply loved, and moved to Cairo. Despite the daunting idea of a new job in a new town, the young Gazarin adapted quickly, indicating his persistence — and not being easily discouraged or deterred.
He would go on to join the administrative staff of the state-owned Nasr Car Company, and years later, became president of the larger company, which is officially known as Al-Nasr Automotive Manufacturing Company.
Automobiles industry
In his book, Gazarin explains that Egypt's automotive industry originated after the 1952 coup, from the ruling military forces' desire to supply their own needs for trucks and buses, and achieve a degree of independence in the global market.
There was also a wide belief that manufacturing a consumer car would propel Egypt into the rank of advanced countries. On the political level, the idea of producing an Egyptian-made car was glorified — the name of the company itself means victory.
This sheds light on the reasons behind the country's bold foray into a fierce industry that requires significant technological capabilities as well as sizeable capital investments.
For some time, the company managed to produce a sufficient supply to meet local demand for trucks, trailers and buses, all while efficiently using the capital at hand. Egypt was able to export buses to Kuwait and Libya, but the passenger car was more difficult to sell, because demand was markedly less than that for trucks or agricultural vehicles.
"Egypt didn't have the local industrial capability or the sufficient domestic market to create a wholly independent car industry and make investment in it viable," Gazarin tells Egypt Independent.
Developing a domestic car industry required the state to cooperate with foreign partners to assemble imported parts in large quantities, produce cars and develop a local feeding industry as a whole, so as not to rely on importing all the parts.
He points to a grave mistake authorities committed at the time — not taking on foreign partners in Nasr Car Company.
"Taking any foreign partner was against the state's policy of consolidating and controlling the industry. The economic consequences of politically centralized decision-making were significant," he says.
Gazarin highlights how political leaders have habitually taken managerial decisions that had negative results.
The company, which monopolized the automotive market in Egypt since its creation in 1960 through the mid-1980s, was driven to liquidation by a series of ill-advised government policies. Chief among these was the decision to pool all the investments from car manufacturers into a single firm.
"They hoped it would result in economies of scale, but the technical and administrative problems of coordination of different types of productions with various partners for very different domestic markets [trucks, trailers, agricultural vehicles, buses and cars] turned out to be ineffective," Gazarin says.
Authorities also erred in passing on too many projects with different international companies, as well as keeping too many workers at the factories when work slowed.
The company was also denied key investments that were essential for it to compete in the fierce global market, which demands efficiency and groundbreaking technology. This forced the company to rely on foreign patents and expertise.
Unlike developing countries such as India, Turkey and Korea, the government did little to support the company or the overall industry.
For almost 14 years, the government made no investments in Nasr Car Company, much to the detriment of a company in an industry that needs constant leaps in development. Moreover, operating under a government-controlled model hindered the company's ability to innovate and survive in the dynamic local and global market.
With no forward-looking vision, Gazarin argues Nasr Car Company's deterioration "was a natural result of centralized decisions."
Administrative roles
As president of Nasr Car Company from 1968 to 1984, Gazarin managed to turn the company's losses into profits. Turnover reached LE100 million in 1981 and exceeded LE254 million in 1982.
However, during his tenure, Gazarin faced numerous challenges.
Much like today, Egypt faced a foreign currency crunch in the 1960s, and a shortage of liquidity posed significant obstacles for a company that imported most of its assembling parts. Naturally, production slowed.
As the company's president, Gazarin attempted to find unconventional ways out of the problem. One of his solutions was to tender for bids in Arab countries for manufacturing and exporting buses, which provided direly needed hard currency.
The company also managed to sell passenger cars to Egyptians working abroad, which gave production yet another push.
In an attempt to engage workers, Gazarin prioritized the interests and welfare of employees, and attempted to provide decent financial benefits, medical care, housing and summer resorts.
He believed in cementing the relationship between the company administration and employees by creating a stable workplace, regularly meeting workers to hear their grievances, and listening to their suggestions.
During his career, Gazarin was appointed chairperson of the Engineering Industries Authority, chairperson of the Federation of Egyptian Industries and head of the Egyptian Businessmen Association. He was also an adviser and served on the boards of directors of several industrial companies.
He holds two Egyptian Order of Merit awards, as well as three honorary medals as an industrialist — two from Italy and one from Poland.
From his experience at the helm of the Federation of Egyptian Industries, he knows that workers who are comfortable at the workplace will enhance production.
"The current recurring labor protests are an indication of certain defect. Something is wrong," he says.
At the same time, he thinks the biggest mistake authorities can make now is to start negotiating minimum or maximum wages without taking into consideration the outlook of employers and business players. To achieve broad consensus, there must be a tripartite agreement between the government, labor force and employers, he says.
Egypt's industrial public sector continues to account for about 30 percent of total production, and still includes heavy industries such as textiles, iron, steel and cement. Most of these, however, are suffering from dilapidated equipment, feeble financial liquidity and a years-long accumulation of debt.
The government should focus on restructuring these industries for them to continue competing on the market, he says. To face the current foreign currency shortage, Gazarin adds, partnering with international players is key.
"Public-private partnerships are essential," he says. "We can't afford the expenses of research and development — only international companies can afford that. They can assist in opening new markets, bringing in new technology and know-how, and certainly injecting hard currency into the market," he says.
Hobbies and life
Outside of the work sphere, Gazarin has a number of hobbies he's quite passionate about, but at the mere mention of photography, his face lights up. It's an interest that began during his days in Zurich, famous for its stunning natural landscapes.
"I always liked taking photos of nature, and one day I presented some images in response to an advertisement by Agfa Company, and I was surprised when they bought two of my photos," he recalls.
A lover of travel, he toured the world with his camera in tow, and participated in a number of exhibitions in Egypt as well as Italy, Germany, India, Korea and Switzerland.
He has established and served as chairperson of the Egypt Salon Society for Photography, Pioneers Association of Photography and the Photography Association at Gezira Club and Shooting Club.
In February, he won an honorary accolade at the eighth Nile Salon for Photography held under the auspices of the Culture Ministry.
He will also hold a new photography exhibition on 18 April at Mahmoud Mokhtar Hall at Khaledeen Garden in front of the Opera House.