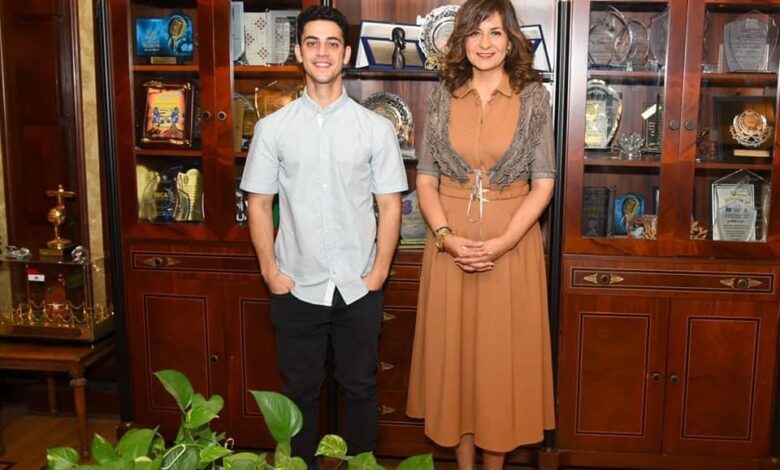 Egypt's Minister of Immigration Nabila Makram met with actor Adam al-Sharkawy on Tuesday and named him as ambassador for the presidential initiative "Etkallem Arabi" (Speak Arabic), a statement issued by the Ministry of Immigration and Egyptians Expatriates' Affairs said.
Sharkawy is an Egyptian actor residing in the US, and is best known for playing "Big Z" in the Ramadan 2021 drama "Le'bet Newton" (Newton's Game).
Makram began the meeting by welcoming Sharkawy, expressing her happiness with him as one of the second and third generation sons of Egyptian expatriates, and congratulating him on his success in the series. 
She praised him for speaking in Arabic and the Egyptian dialect in the series and for adhering to his mother tongue and identity.
During the meeting, Makram explained the presidential initiative "Etkallem Arabi", which seeks to familiarize expatriate children with Egyptian values ​​and culture and connect them to the country's ancient history and civilization, as well as current achievements of the Egyptian government.
"Our children abroad and at home face a war to obliterate their identity and are exposed to different cultures. We affirm, through this initiative, that we are not against learning other languages ​​and that we are open to different cultures. However, the language of their homeland must not be forgotten," said Makram.
Makram mentioned that more than 15 camps have been held through the "Zoom" app under the initiative, which has also been widely promoted on social media. 
She pointed out that an application for the initiative recently launched.
The app is an easy, simple, and fun tool for children to get to know their homeland's customs, traditions, and history, she said.
Sharkawy thanked Makram for receiving him, and praised her efforts to meet the needs of Egyptian expatriates, and also expressed his admiration for the "Etkallem Arabi" initiative and its goals that would preserve the Egyptian and national identity.
He expressed his happiness of becoming an ambassador for the initiative inside Egypt, and expressed his full readiness to promote it abroad and encourage Egyptian expatriates to speak Arabic.