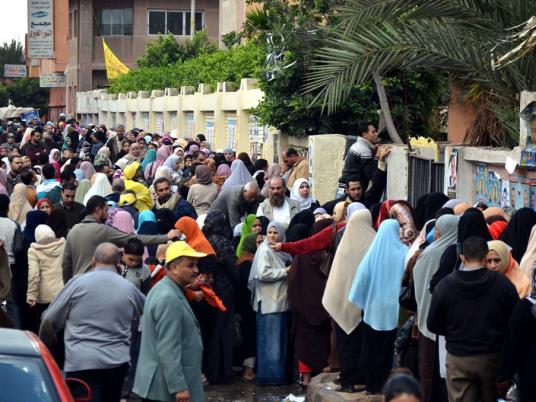 The 25 January Revolution Youth Coalition has called upon the Egyptian people to take part in a million-man protest next Friday, dubbed the "Friday of Dignity," to confirm the continuation of the revolution and demand that the military council hand over power to civilians. It has also called for a sit-in in Tahrir Square until power is handed over to civilians and the military regime falls.
The coalition said in a Wednesday statement that the military mismanaged the transition period and has failed to preserve the dignity of the Egyptian people. It chided it for killing protesters at Maspero in October, on Mohamed Mahmoud Street in November and during cabinet clashes in December.
Other revolutionary movements and parties on Wednesday announced the beginning of a sit-in in Tahrir Square and other squares throughout Egypt. They demand the prompt handover of power to civilian rule.
The April 6 Youth Movement tweeted that it will stage a sit-in in Tahrir Square calling for a speedy transfer of power.
Independent news website Youm7 cited April 6 spokesperson Mahmoud Afifi as saying that the movement will hold sit-ins until the army transfers power to Parliament or holds presidential elections.
Afifi confirmed that the revolution will continue until all of its goals are met or until power is transferred to a civilian government. He said that the military should leave politics and instead focus on its primary mission — protecting the country's borders.
April 6's Alexandria wing announced on its Facebook page that the governorate's revolutionary forces are staging an open sit-in in Victor Amanwel Square in Semouha, east of Alexandria.
"No one will come close the Alexandria Security Directorate. Our sit-in is forever peaceful. Down with military rule," the page said. "This square is the best for sit-ins and is more like Tahrir Square."
Ahmed al-Sokary, a member of the executive office of the 25 January Revolution Youth Coalition, said a group of activists have decided to stage a sit-in in Tahrir Square and other squares. They demand a quick power transfer, a restructuring of the Interior Ministry and trials of those involved in killing protesters.
On private satellite channel CBC, Sokary suggested that the military transfer power to Parliament. He said that the coalition's sit-in will continue until next Friday.
Ayman Nour, founder of the Ghad Party, told CBC that the decision to stage a sit-in was reached in a meeting Wednesday between Ghad, the 25 January Revolution Youth Coalition and the Kefaya Movement.
Kefaya released a statement saying that the military government has failed to hold trials for the killers of protesters and has complained of the butane gas shortage.
Mohamed Abdel Aziz, Kefaya coordinator, said that the only solution to the current situation is the People's Assembly head, or the formation of a salvation government, whose head will assume the office of president until elections are held.
The legal counselor of the Freedom and Justice Party told CBC that his party will not take part in sit-ins in Tahrir Square or any other squares.
Some activists say that sit-ins will be useless unless large number participate in them. In conversations with Egypt Independent, activists noted better ways to put pressure on the ruling military council.
"As for a sit-in, it will depend at the numbers at the end of the day. I am against small sit-ins for huge demands," Laila Soueif, university professor and mother of activist Alaa Abd El Fattah, told Egypt Independent.
Blogger and political activist Nazli Hussein said she is not against sit-ins in general "but we can continue marches in the streets and see what will happen, and if our demands are not met we can start a sit-in."
Political activist Wael Khalil said daily protests peaceful demonstrations are preferable to sit-ins.