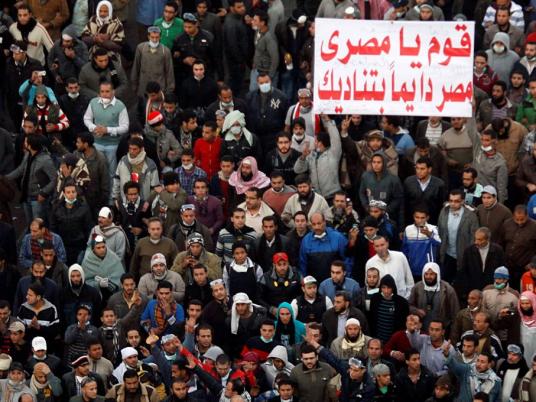 Activists began to flock to Tahrir Square Sunday to participate in a mass rally dubbed "Revolutionary Legitimacy," which will demand the ruling military council hand over power to civilians.
Twenty-four political parties and movements decided Saturday to hold the protest, as well as a "salvation million-strong protest" on Monday to demand power be handed to civilians through the formation of a presidential council and national salvation government.
Popular committees on Sunday began to secure Tahrir's entrances, clean the square and expand its makeshift field hospitals. Late on Saturday panic briefly erupted after shots were heard around Talaat Harb Square, which is near Tahrir, but calm has since returned.
Protesters have been camping out in Tahrir, calling for a national salvation government with full powers. Presidential hopeful Mohamed ElBaradei, who is being urged by Tahrir protesters to form the national salvation government, said he is ready to give up his presidential bid if he is assigned to head such a government.
However, Islamist parties and trends are divided about participating in the demonstrations planned for Sunday and Monday.
The Muslim Brotherhood's Freedom and Justice Party, the Jama'a al-Islamiya, and the Salafi-led Nour Party all said they will not take part. However, the Sufi-led Egyptian Liberation Party and the Egyptian Current Party both announced their participation.
"[Jama'a al-Islamiya] will not take part in Monday's protest, called the 'salvation million-strong protest,' because it aims at undermining the election process," said Tarek al-Zomor, spokesperson of the Jama'a al-Islamiya's governing council, told Al-Masry Al-Youm.
He added that furthermore his group may not take part in Sunday's protest because it could also damage the elections.
Meanwhile, a coalition that includes around 20 Salafi parties said it will continue protesting at Tahrir to defend the revolution and draw up a plan for a safe transition of power.
The group, known as the Free Islamists Coalition, announced its formation on Saturday and held its first convention in Tahrir Square.
The first statement issued by the coalition demanded an immediate handover of power to a civilian government. It also announced its rejection of the SCAF's appointment of Kamal al-Ganzouri as interim prime minister.