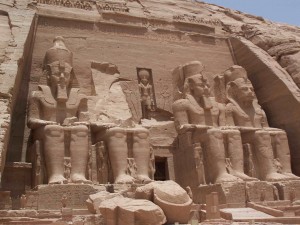 Abu Simbel archaeological area in Aswan received on Monday 620 tourists of different nationalities from European and east Asian countries, despite the bombing of Abbaseya Church in Cairo on Sunday, the director of Abu Simbel archaeological area, Hossam Abboud, told Al-Borsa News on Monday.
The area received 620 tourists in 30 buses including Japanese, Chinese and German tourists, he pointed out.
Touristic programs and reservations are proceeding normally in accordance with their schedule and without any cancellations, Abboud said.
The number of tourists who visit Aswan is usually lower at the beginning of the week, compared to the end of the week. Tourists numbers increase gradually by the end of the week, reaching at times 1,500 tourists, he added.
The total occupancy rate for Aswan's fixed and floating hotels currently stands at 27 percent, according to Abboud.
The rate is expected to increase in the Christmas holiday during which Egyptian and foreign tourists usually visit the city for the celebrations, he explained.
The occupancy rate reaches 70 percent in January and February, as well as on the occassion of the unique solar phenomenon that occurs twice yearly in October and February at the Abu Simbel Temple, south of Aswan.
A bombing occured on Sunday at St. Peter and St. Paul's Church in Abbaseya, Cairo, killing 25 and injuring 49 others.
Several hoteliers expected the bombing to have a negative impact on the bookings expected during the coming Christmas holiday, although no cancellations have yet been reported.