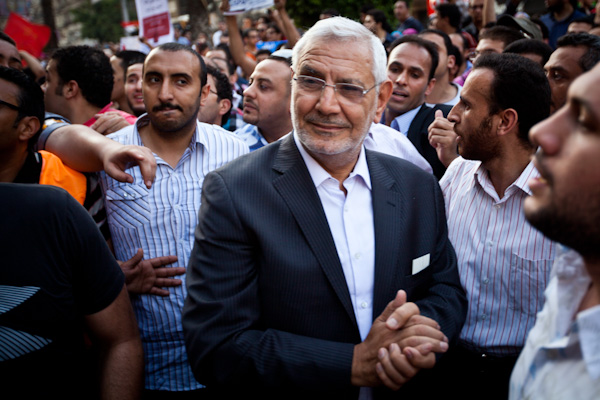 Former presidential candidate and Strong Egypt Party head Abdel Moneim Abouel Fotouh has called for early presidential elections if the country's "mismanagement" continues.
"If President Mohamed Morsy's poor management of the country continues, early presidential elections must be held. Although we hope that Morsy completes his presidential term, the alternative in the case of continuing mismanagement will be the army stepping up," he said during a student conference at Beni Suef University Sunday evening.
However, Abouel Fotouh seemed to distance himself from calls for the military to take over the country, saying that the patriotic role of the Armed Forces is maintaining the country's security, and that it would be better for it not to be thrown into a political quagmire again.
In a separate statement issued by the party, Abouel Fotouh said that Egypt had many citizens able to take responsibility for leading the country, and that because of that "it does not make sense to rely on those belonging to only one faction," in a possibly veiled swipe at Morsy's Muslim Brotherhood.
Criticism of Morsy and Prime Minister Hesham Qandil's government has intensified in recent months, as ongoing political stalemate and a deepening economic crisis loom over the country.
Some governorates have seen limited popular campaigns at notary offices to submit documents from citizens authorizing the Armed Forces to run the country in Morsy's place.