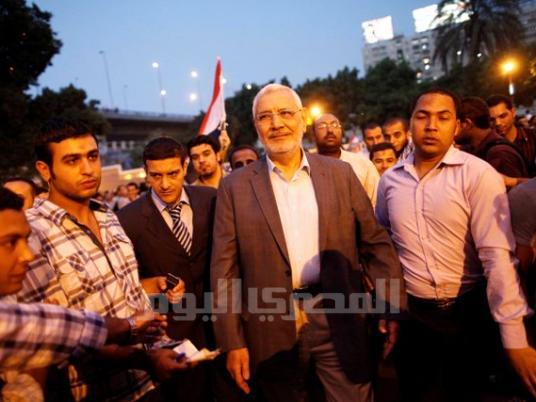 Former presidential candidate Abdel Moneim Abouel Fotouh said Wednesday that demonstrating in the nation's squares is not enough, and called for unity to work on national development projects.
"We are now under a new political regime, headed by a national figure as president. Thus, we must come together to serve the nation and establish development projects. This will not be achieved without cooperation and removing barriers," Abouel Fotouh said during a conference in Fayoum to launch a project for surveying student health in Egypt.
The project, which targets 10 million students, would be carried out by the Arab Doctors Union in cooperation with the Health Ministry. Abouel Fotouh is the secretary general of the union.
Abouel Fotouh said that the medical staff who are undertaking the project are "anonymous soldiers" working for the betterment of their country without seeking media attention.
He added that Fayoum Governorate has been deprived for a long time, and that all state agencies and civil society organizations are to blame for this.
Edited translation from Al-Masry Al-Youm