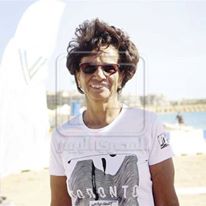 74-year-old Egyptian swimmer Sohair El-Attar shined at the 18th edition of the World Masters Championship in South Korea's Gwangju that kicked off last August, winning the silver medal in the women's 200m backstroke and taking fourth in the 400m freestyle in addition to the 50m and 100m backstroke.
Attar is a Pathology professor at the Faculty of Medicine, Cairo University. The champion began her swimming, running and biking careers after joining Gezira Sports Club many years ago.
Attar's personal and academic commitments prompted her to stop swimming for eight years. The pathologist asserted during her interview with "Kalam Setat" (Female Talks) on CBC Channel that this eight-year hiatus never killed her passion for swimming.
With the support of her family, she successfully made a strong comeback, participating in the 2015 Fédération Internationale de Natation (FINA) World Masters Championship in Russia and the 2017 championship in Budapest.
Attar has won several cups and prizes since establishing her swimming career, including 10 medals in international competitions.
"It was amazing to see my picture on the websites. Everyone is talking about the silver medal and me," the champ said during her interview with Al Jazeera Net news outlet.