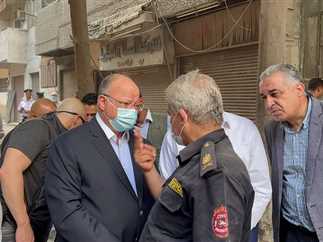 A 5-storey property has collapsed in the al-Daher area of ​​Cairo, in the early hours of Friday morning.
The Department of Civil Protection in Cairo received a report stating that an old property had collapsed in the Daher area.
Immediately, the security services and civil protection forces moved to the area of ​​the incident, in order to remove the rubble using equipment.
Major General Khaled Abdel Aal, Governor of Cairo, formed an engineering committee to examine the properties adjacent to the collapsed property in Hussein Shaheen neighborhood at the intersection of Tor Sinai Street with Sheikh Qamar Street.
The Public Prosecution was notified to investigate the incident.
After the collapse occurred at dawn, on Friday, Abdel Aal moved to the site of the collapsed property to supervise the rescue operations and removing the rubble as well as identifying victims if found.
Eyewitnesses said that there may be deaths as a result of the collapse of the old house, while others said that the people in the house left a few minutes before it collapsed.
No deaths were reported as a result of the incident.