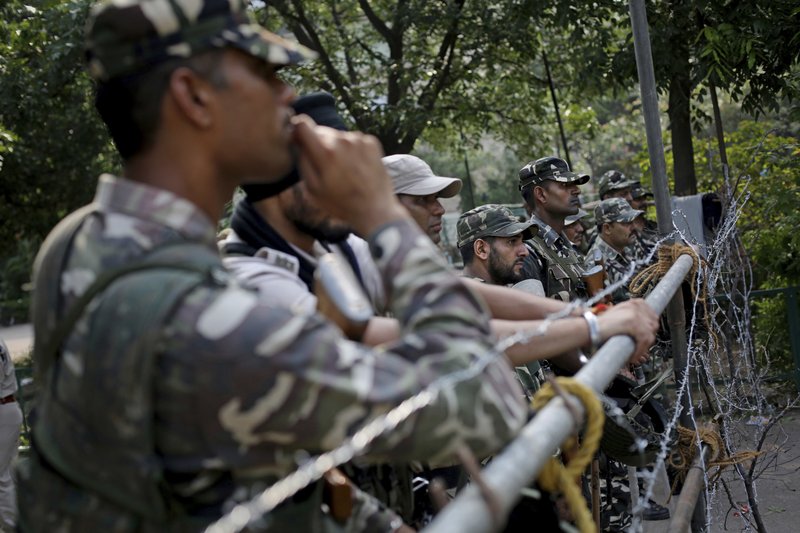 5:00 p.m.
A hospital doctor says five people have been killed in riots by supporters of the leader of a quasi-religious sect, angry after a north Indian courthouse declared him guilty of raping two followers in 2002.
Police used water cannon in an attempt to disperse the crowd. Thousands of officers and paramilitary troops were deployed in the town.
The doctor on duty in Panchkula's state-run hospital said an unknown number of people had been injured.
Mobs also set fire to government buildings, and attacked police and TV journalists, smashing the windshields of media vans and breaking broadcast equipment.
Police said the violence had broken out in several places across the neighboring states of Haryana and Punjab. Two railway stations, in Malout and Balluana towns, had been set on fire.
Police have taken the guru into custody pending his sentencing on Aug. 28.
3:50 p.m.
A prosecution lawyer says a flamboyant guru who was convicted of rape in northern India will be taken to jail until his sentence is announced on Monday.
H.P.S. Verma says Ram Rahim SIngh was found guilty of raping two women followers at his ashram in 2002. He says he'll be taken to the central jail in the town of Rohtak.
The verdict has sparked fears of violence by tens of thousands of his supporters who had gathered outside the courthouse in the town of Panchkula.
Shortly after the verdict was announced, the restive crowd attacked journalists and media vans that were parked outside the court, breaking windshields.
___
3:30 p.m.
A court in north India has convicted a flamboyant guru of raping two of his followers.
Prosecution lawyer H.P.S. Verma said Friday the guru, who calls himself Saint Dr. Gurmeet Ram Rahim Singh Ji Insan, has been found guilty in the 15-year-old case.
Tens of thousands of supporters who had been waiting for hours near the court shouted in anger after the ruling was announced in Panchkula town.
More than 15,000 police and paramilitary soldiers were posted in and around the court where the guru appeared before a judge, as Panchkula administrators feared an outbreak of violence.
The court will announce a sentence on Monday.