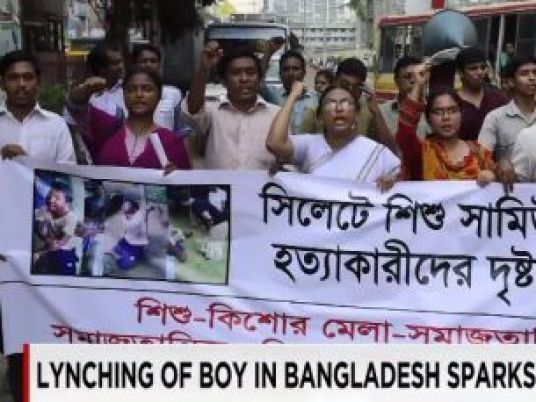 Yet another boy has been tortured and killed in Bangladesh, police said.
Mohammad Raja, 17, is the fourth boy between ages 10 and 17 to be beaten to death in just over five weeks. Public protests have erupted across the nation and 13 people were charged in a highly publicized killing that was recorded and posted on social media.
Raja was found badly injured Monday in front of his house in the Hazaribagh area of Dhaka, the capital. He was taken to Dhaka Medical College Hospital and died soon after admission.
"We've received a complaint over the lynching of a boy," said Kazi Moinul Islam of the Hazaribagh police station. "We've already arrested three people who are being interrogated,"
Family members said Raja, a steel shop employee, was picked up by a neighbor who claimed that the boy had stolen a mobile phone set.
Police said they believe Raja was tortured because his body had bruises and scars.
Suspected thieves are often attacked by mobs in Bangladesh, according to reports, but the killing of the boys has outraged many.
Public protests broke out after the July 8 killing of Samiul Alam Rajon, 13, was recorded and posted on social media.
The clip shows Rajon, tied to a post and beaten with a metal rod while his attackers laugh and jeer during the attack in Kumargaon, on the outskirts of Sylhet. The victim's pleas for mercy, or just a glass of water, were ignored by his attackers.
Rajon, a vegetable vendor, was accused of stealing a rickshaw van used for carrying goods.
Footage of the killing, recorded by one of the attackers, was widely viewed on social networks, prompting hundreds of angry protesters to take to the streets, demanding the killers be punished. Protesters claimed Rajon's death was not isolated, but rather exposed shortcomings in the country's criminal justice system.
Police said that 13 people have been charged in that crime.
Mohammad Rakib, 12, died August 3 in Khulna. Authorities said he was tortured by his former employer who was angry because Rakib took a job at another car repair shop.
On August 4, Robiul Awal, 10, died in Borguna. He was beaten and his eyes were gouged out after he'd allegedly stolen fish.
It's not known whether anybody was arrested in Rakib's or Awal's deaths.
Statistics of child rights group Bangladesh Shishu Adhikar Forum show that 191 children were slain in the first seven months of the current year, up from 146 during the same period of 2014 and 128 in the corresponding period of 2013.
A local rights organization, Odhikar, said in a recent report that at least 903 were lynched across the country since January 2009 and at least 60 people were lynched in the past six months.