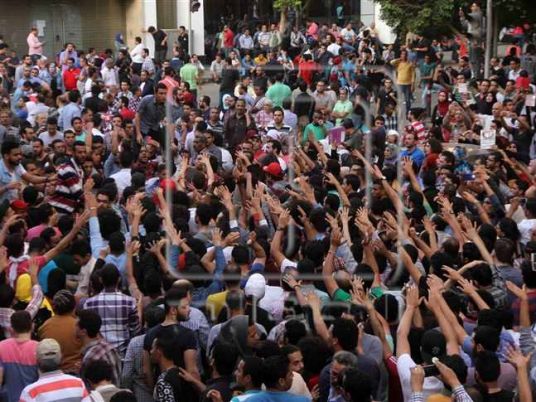 Forty-seven people handed heavy fines for taking part in illegal protests have been denied permission to pay their fines in installments, meaning they may spend two months in prison instead.
North Giza Appeals Court has rejected the request from 47 people recently convicted of taking part in the April 25 protests against the handover of Tiran and Sanafir islands to Saudi Arabia.
Dokki Appeals Court sentenced the defendants to a total of LE4.7 million in fines, with each convict required to pay LE100,000. They had previously been sentenced to five years in prison by a lower court, but the sentence was later reduced to a fine.
Lawyer Nour Fahmy said that any defendants who refused or were unable to pay the fine would be sentenced to a maximum of three months in prison. He said that since they had already spent one month behind bars, they would only face an additional two months if they didn't pay the fine.
After investigations by the National Security Agency, the 47 were charged with protesting without a permit, blocking traffic, illegal assembly and rioting.
At least 100 protesters were arrsted on April 15 in various locations and governorates in protests against an agreement on the demarcation of maritime borders between Egypt and Saudi Arabia, signed in early April.

The Egyptian government has stated that it has various historical documents proving that the islands belong to Saudi Arabia and were temporarily under Egyptian protection. However, so far, these documents have not been made public, causing many to doubt their existence.
On April 8, Egypt and Saudi Arabia signed an agreement clarifying the demarcation of maritime borders between the two nations, just one of several deals signed during the visit to Egypt of Saudi King Salman bin Abdel Aziz.
The Egyptian Cabinet said that the agreement places the islands of Tiran and Sanafir within Saudi territorial waters, although the agreement will need to be reviewed by parliament before it is ratified.

The two islands are of great strategic importance, being located at the entrance to the Gulf of Aqaba.