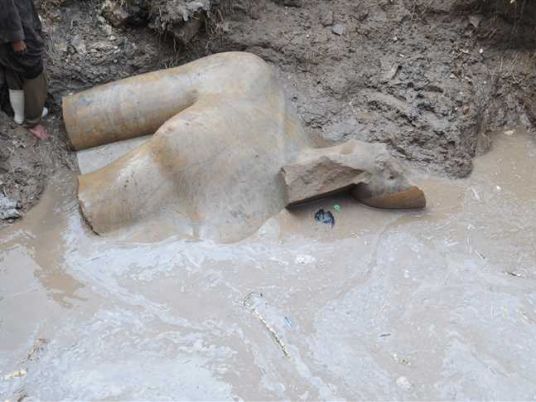 Ayman Ashmawy, the Head of the Egyptian Antiquities Department at the Ministry of Antiquities and senior member of the German-Egyptian excavation mission in Al-Matariya neighborhood said that excavation in Al-Souq Al-Khamis area has produced the discovery of more than 4,500 new artifacts belonging to the statue of King Psamtek I – which was unearthed in 2017 in Al-Matariya and transferred later to the Egyptian Museum for restoration.
Ashmawy added that the pieces of the statue discovered thus far amount to approximately 4,500, and they allow the possibility of visualizing the shape of the statue before its destruction in the past.
According to Ashmawy, most of these pieces were found in a pit south of the pedestal.
Ashmawy said that the recently discovered pieces showed that the statue depicted King Psamtek I as standing, as his left hand extends below the abdomen, while the right hand extends along the entire length of the body.
The back pillar of the statue is adorned with key, precise and magnificent inscriptions, representing Psamtek I on his knees offering sacrifices before Atum, the god of Heliopolis, said Ashmawy.
Meanwhile, head of the German mission Dietrich Raue said that the geomorphological and geophysical survey at King Nektanebo I's temple, located west of the obelisk, has revealed many fragments of a quartzite gate belonging to the eras of kings Ramses II and Nektanebo I.
Raue pointed out that among the unique pieces found  were a fragmented frieze of falcons, part of a gate dating back to the era of King Merneptah, and parts of a huge statue made of red granite representing King Ramses II in the form of the Sphinx, which confirmed that King Nakhtenbo I has other parts and buildings already established in previous eras, including his temple.