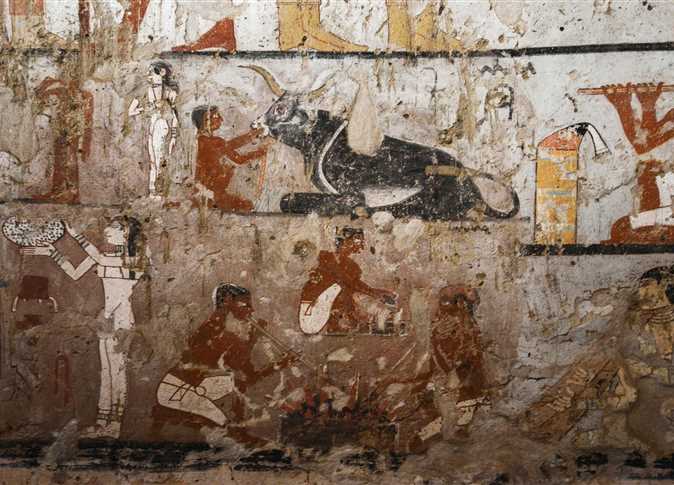 Egypt's Antiquities Minister Khaled al-Anani announced on Saturday the discovery of a tomb likely to have belong to a high-ranking female official named Hatbet from ancient Egypt dating back to the fifth Dynasty (4,400 years ago), described as the "priest of the goddess Hathor."
The news came during a press conference held by the Minister in the Giza plateau where the details of the new archaeological discovery in the Western Cemetery area west of the Great Pyramid (Khufu) were announced in the presence of Giza Governor Mohammed Kamal el-Dali, and foreign ambassadors and officials of the Antiquities Ministry.
The Minister pointed out that the belongings of the lady were found more than 109 years ago and are currently in the museum of Berlin.
For his part, Secretary General of the Supreme Council of Antiquities Mostafa Waziri said that the tomb of the priest Hatbet probably is not the main tomb of the priest, as it is made of mud bricks with a mortar layer.
Waziri added that the cemetery included several unique inscriptions, including one describing a domesticated monkey who dances before a band.
Waziri said that the cemetery consists of an entrance leading to a compartment shaped like an L with a basin for cleansing, upon which is carved the names and titles of Hatbet, including "the priest" and "senior official with connection to royals."
He explained that the walls of the tomb were decorated with colorful scenes depicting Hatbet in the standing position observing the scenes of hunting birds and fish, as well as a view of various industries and forming of metals and scenes of grazing and slaughter of offerings and the collection of fruit and musical bands and dancing women.
Waziri added that there are also scenes of two monkeys on the walls of the tomb. The first scene depicts a monkey collecting fruits and the other a monkey dancing with a band.
Edited translation from Al-Masry Al-Youm