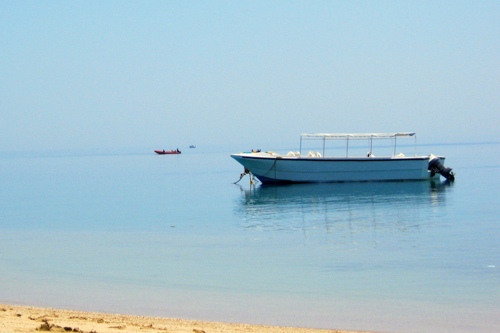 Environmental activists are joining forces to transform a Marsa Alam camp into the first self-sustainable eco-lodge in the area, complete with solar panels and solar water heaters built from scratch.
The southern Red Sea town has been suffering from fuel shortages and a drop in tourism activities for more than a year now. With most of Marsa Alam's resorts and residential areas relying on fuel generators for electricity, introducing alternative energy solutions is imperative.
The area's natural landscapes have also been damaged by increasing urban development as well as environmental pollution, and activists hope to counter these damages by showcasing easy and practical eco-solutions to Marsa Alam residents.
In April, engineers, designers and volunteers will work to transform Deep South camp in Tondoba Bay into a self-sufficient eco-lodge. To showcase the transformation and raise awareness about eco-tourism and green jobs, Deep South will then host 3alganoob Festival, a three-day festival starting on 3 May featuring live music by Abo wel Shabab, Like Jelly and other local acts, in addition to screenings of Egyptian independent films at night.
During the day, educational workshops will be held to showcase practical and easy eco-solutions to the community to inspire others to replicate the Deep South model. Diving trips and kite-surfing days will also be organized for the festival's guests, in addition to road trips, meditation sessions and trekking through some of the area's pristine desert valleys.
In addition to the camp's chalets and wooden huts, guests can bring their own tents or rent one out from the camp, while nearby hotels will offer discounts on accommodation for the festival.
Marsa Alam locals will participate in the live music jamming sessions and tribe representatives will speak about their communities' greatest problems, including education and healthcare, to raise awareness and funds to support green jobs for the tribesmen.
"We want to empower the local Marsa Alam community with a relevant skill set in the green sector," says Mohamed Radwan, space manager at icecairo, an environmental group that will design and build the solar panels and water heaters at Deep South.
"We want to transfer these cost-optimization methods to the local Ababda and Bashareya tribes of Marsa Alam," he says. "They have been suffering from the haphazard development of Marsa Alam's tourism industry."
Radwan adds that, with once-abundant fish stocks being depleted in the Red Sea, many residents have turned to the tourism industry for an income, which is now suffering from an extreme decline.
Karim Noor, owner of Deep South, points out that the human element of the campaign is equally important to emphasize.
"The local community suffers from poor education and health problems," he says. "There aren't enough medical services, especially for young mothers and newborns. Drinking water is scarce, as are fuel supplies."
Radwan adds that other target markets are the remote tourism resorts seeking cost-effective energy alternatives, as most of Marsa Alam relies on fuel-generated electricity, despite the abundance of sun and wind spots in the area.
"The goal would be to provide cheaper, cleaner energy while not polluting the surrounding area with traditional fossil fuels, which have recently been in short supply," he says.
Amr Farouk, managing partner of Oasis Renewable Energy, says his organization will provide products and manufacturing know-how for the solar energy prototypes in collaboration with icecairo.
Farouk says Marsa Alam remains ecologically intact, with limited man-made alterations to the ecosystem compared to other areas such as Hurghada and Sharm el-Sheikh.
"It is important to help keep Marsa Alam this way and help improve it," he says. Farouk says 3alganoob Festival will make these solar prototypes available to the local community to reproduce for their own use and also to sell to local hotels to generate income.
"Marsa Alam depends on diesel generators to create energy," he says. "Needless to say, this is not a sustainable solution and it won't be financially feasible within a few years."
Marsa Alam's area in the Eastern Desert, stretching from the city of Safaga on the Red Sea Coast to Halayeb near the Sudanese border, has seen significant changes over the past few years and faces severe environmental as well as developmental challenges.
To prevent Marsa Alam developing in the unsustainable, commercial nature of other Red Sea cities such as Hurghada, activists believe it is crucial to raise awareness of its enormous economic potential and show how eco-tourism could be a sustainable solution for the future.
Details of activities as well as ticket prices can be found at www.3alganoob.wordpress.com. Volunteers interested in participating in the festival can contact the organizers on [email protected]