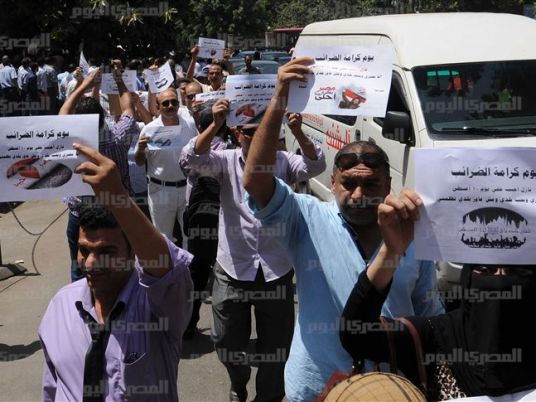 Thirty-seven trade unions, rights organizations, public figures and coalitions issued a statement Thursday announcing their solidarity with public employees' demands to bring down the new Civil Service Law.
"We announce full solidarity with the movement rejecting the Civil Service Law number 18 for the year 2015 which cancels rights guaranteed by the Constitution and international conventions, including a safe and decent life for the masses of the Egyptian people, just like other legislations issued in the absence of the parliament against the poor and middle-income classes and opponents of the regime," read the statement.
The Civil Service Law will cause the spread of corruption, facilitate the dismissal of employees, allow the privatization of the service sector in public bodies and decrease salaries and bonuses without taking into account inflation rates, the statement added.
The statement mentioned the law would have economic repercussions.
The organizations and public figures that signed the statement include the National Federation of Egypt's Unions, the Independent General Union of Education Workers, the Coordinating Committee for Trade Unionist Rights and Freedoms, the Egyptian Center for Economic and Social Rights, el-Nadim Center for the Management and Rehabilitation of Victims of Violence, journalist Karem Yehia, labor leader Islam Abdel Razeq and Dostor Party leader Hayam Fadel, among others.
A mass protest is planned against the law on September 12.