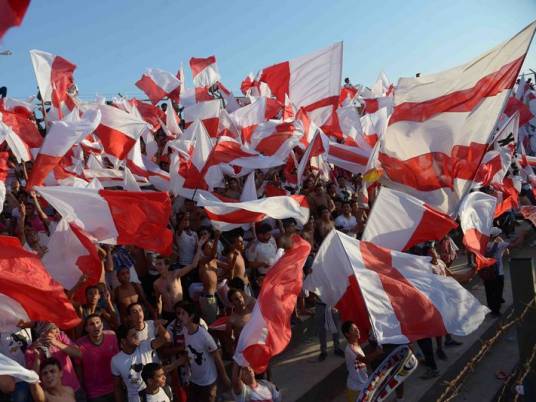 Security services arrested on Saturday 33 members of the White Knights, fans of Zamalek Club, while gathering in front of Cairo International Stadium on al-Nasr road. The fans who wanted to attend the match between their club and the Angolan Kabuscorp
Security fired teargas bombs to disperse the fans who blocked the traffic and did not respond to calls of Zamalek and the Interior Ministry made in the statement on Saturday demanding them to leave.
Necessary legal measures were taken against the arrested fans. Prosecution was notified to conduct investigations.
Interior Ministry had earlier notified Zamalek to hold its match with Kapuscorp without fans.
On Saturday, Zamalek said it received letter from the Egyptian Football Association confirming that security services will withdraw, in case the fans attended the match.
The club's board, presided by Kamal Darwish, was quoted by the official website calling on the fans not to attend the match. He said he tried to convince security services to allow the fans, but security services sticked to its decision.
The White Knights rejected the security decision saying on Friday they will attend the match.
Around 2,000 fans gathered before the stadium hoping that the meeting between Interior Minister Mohamed Ibrahim, former Zamalek Chairman Mortada Mansour and his son Ahmed Mansour end up allowing the fans access to the match.
As the match time became closer, fans lost patience and started the fireworks before the stadium gates amid high security.
Security started the teargas, as the fans increased. The latter escaped to Nasr road and then clashes started.
Edited translation from Al-Masry Al-Youm and MENA