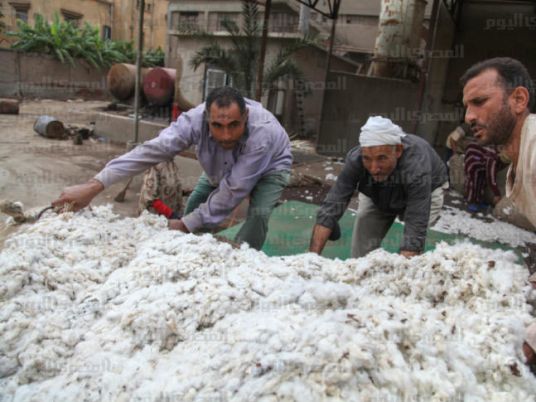 Three thousand workers of the El Nasr Spinning, Weaving and Dyeing Company in Mahalla city, Gharbiya, began to strike in three company factories on Tuesday, to demand the payment of delayed bonuses and wages.
The company's board of directors' attempts to contain the workers' anger failed, so the board submitted the workers' demands to the Ministry of Public Business Sector as to prevent further aggravation of the crisis.
Sixteen thousand workers of the Egyptian Spinning and Weaving Company in Gharbiya continued their strike and sit-in inside the company's headquarters for the eighth day in a row, to protest against what they called the Cabinet and the business sector ministerial committee's negligence to their demands.
Over 6,000 workers of the Egyptian Spinning and Weaving Company in Mahalla began their own open-ended strike on August 7, demanding the 10 percent bonus promised to them by President Abdel Fattah al-Sisi and the parliament, as well as other delayed bonuses over the past months. An additional 10,000 workers joined the protesters the next day.
The workers threatened to take their their sit-ins outside and said that thousands of their family members would join them, until their demands were met.
A number of labor leaders succeeded in persuading them to postpone this move for several days.
Sources in the company's board of directors said that Chairman of the Holding Company for Spinning and Weaving Ahmed Mostafa instructed the Commissioner-General of the company on Sunday to communicate with the workers, persuade them to abandon their strike and return to work in an attempt to fulfill business deals made with investors. Negotiations failed, workers refused the offer because it provided no concrete timeline.
Sources stressed that continuing the strike may put the board of directors in a dilemma due to of financial losses, a result of penalty conditions set in contracts with investors if the company does not fulfill the contracts on time.
Mostafa called for an urgent meeting,  on Monday evening, of the Egyptian Spinning and Weaving Company's board to end the crisis. The Center for Trade Union and Workers Services said in a statement on Monday that the security personnel of the company headed to the workers of factories number 5 and 6 on Monday evening, in an attempt to intimidate them.
Edited translation from Al-Masry Al-Youm