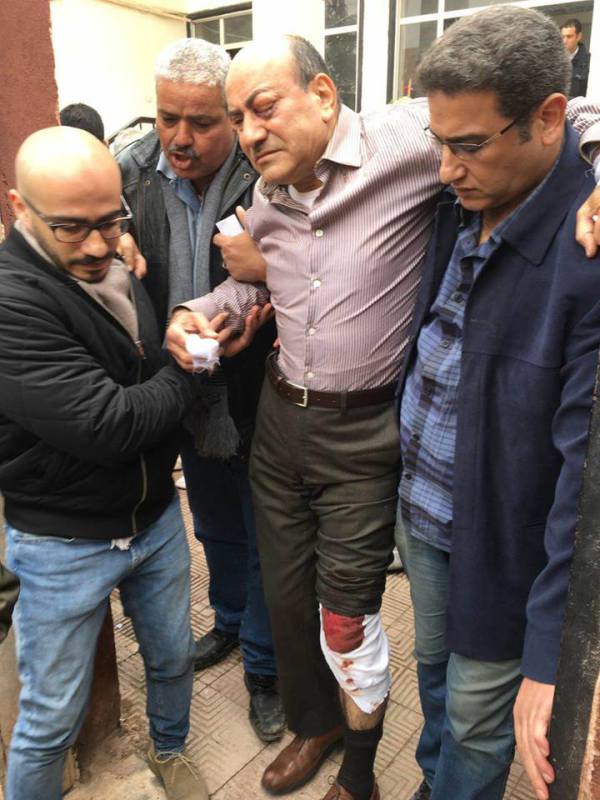 Egypt's prosecution ordered on Sunday the release of ex-head of Egypt's Administrative Control authority, Hisham Geneina, and a four-day detention, pending investigations, of the three suspects allegedly assaulting him a day earlier.
The detained are charged with assaulting Geneina, bullying, the possession of weapons without authorization, and inciting chaos, Ahmed Hanafi, first general lawyer of the New Cairo Prosecution, said.
Earlier on Saturday, Geneina was reportedly attacked and beaten by unidentified men in New Cairo, causing several injuries to his face and legs, Ali Taha, Geneina's lawyer said.
Geneina was leaving his house on his way to the administrative court to attend an appeals court session over a case he had filed to challenge a presidential decree that removed him from his post in 2016.
According to state-run newspaper Al-Ahram,  the Interior Ministry said that the fight broke out following a car accident as Geneina hit a coffee shop owner's car in the area of New Cairo.
The interior ministry said that Geneina was trying to flee the scene of the accident along with his wife, daughter and a guard, when two men tried to stop them until the police arrived. 
"Geneina was injured, and has several abrasions on his hands and feet," the statement said, adding that the three others were injured with leg fractures, scalp wounds, and were treated at New Cairo Hospital.
According to the statement, the police seized an iron piece that was used as a weapon by the guard accompanying Geneina, while witnesses accused his wife and daughter with assault.
The police referred the incident to the prosecution for investigation, "after all parties involved denied the above claims,"  the interior ministry statement added.
However, Geneina stated that the incident was planned, and the defendants were coming to kill him.
"They forced me to stop the car on my way to the court, they hit me, assaulted me, and insulted me. They were trying to kill me," Geneina said during his investigations, according to Al-Masry Al-Youm
Geneina was appointed by ex-army chief of staff Sami Anan as his vice president running mate shortly before Anan was arrested and taken out of the presidential race over charges of "forgery" of his military documents, as well as "violating" army rules, and "inciting" against the armed forces.
 In July 2016, Geneina was sacked as a top auditor after he reported that corruption had cost the country US$68 billion in four years. He was also sentenced to jail for spreading false news at the time. However, later in December, the jail sentence was suspended.