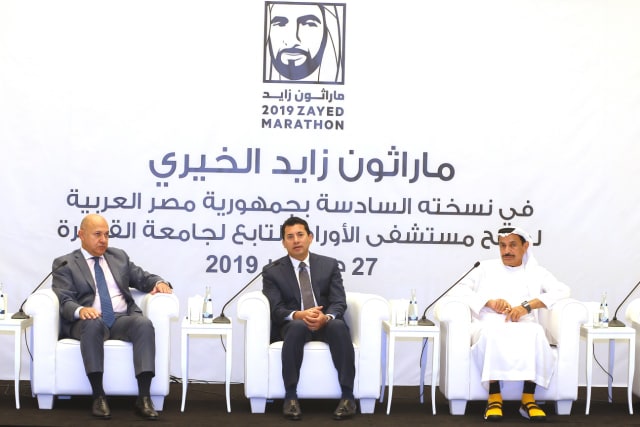 Egyptian Minister of Youth and Sports Ashraf Sobhy said on Wednesday that the sixth edition of the Zayed Marathon will be held in Suez governorate on December 27 this year and will see the participation of a large number of youth from numerous governorates.
He added that ministers, officials and executive leaders from the UAE, the Egyptian Ministry of Youth and Sports, and Suez will attend the 2019 Zayed Marathon.
Sobhy added that the proceeds from the sixth edition of the marathon will be allocated to the National Cancer Institute of Cairo University.
This announcement came during a press conference held in the UAE on Wednesday to announce the details of the sixth edition of the Zayed Marathon.
"The date of the 2019 Zayed Marathon coincides with the National Day of UAE, which has sisterly relations with Egypt in various fields," Sobhy said, praising the positive impact of the marathon on the social, cultural, political and sports scenes.
"We diversify the cities that host the marathon every year; we started with Cairo, and then in Luxor in one year, and the last version was in Ismailia, and this year will be in Suez," Sobhy said. He pointed out that the professionalism of the organizing committee of the marathon brought the marathon a favorable image.
Participants are set to run for about 10 kilometers for a prize worth one million pounds, allocated for the first 500 winners.
Participation will include the use of the electronic system for registration, arbitration and the announcement of results, ensuring great transparency and credibility for young participants.
Sobhy said that the Zayed Marathon is a major sporting event that many segments of society participate in. The returns of the marathon at the end of each race goes to charity institutions.
Edited translation from Al-Masry Al-Youm