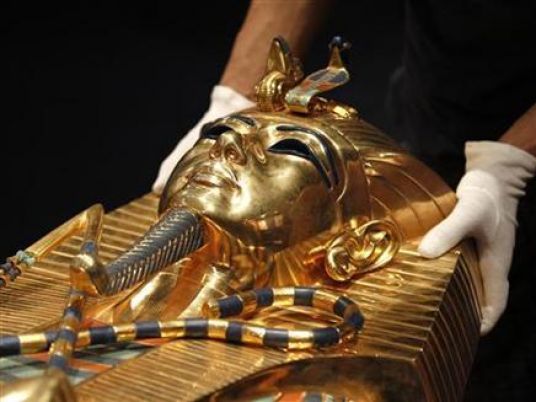 200,000 tickets have been sold for the King Tutankhamun exhibition currently held in the French capital, Paris. The exhibition will continue until September 15, Antiquities Minister Khaled al-Anani said.
The number of visitors reached nearly 15,000 during the past 48 hours, he added.
Anani told Al-Masry Al-Youm that the exhibition promotes Egyptian monuments and tourism industry–an achievement much better than any material return.
Anani called on the French people to visit Egypt to enjoy seeing thousands of artifacts in Egyptian museums. He also extended an invitation for the French to see the treasures of Egyptian King Tutankhamun exhibited at the Grand Egyptian Museum due to open in late 2020.
Mummies will be transferred from the Egyptian Museum to the National Museum in the Fustat area of Cairo during the next two months, he said, noting that a global insurance company has insured 150 of King Tut's artifacts in the exhibition, totaling LE15 billion.
Al-Masry Al-Youm spotted a French shop in Paris selling variously sized chocolate molds of the Egyptian king in addition to some of the artifacts displayed at the exhibition, while other children's shops sold pharaonic clothes.
Public transport allocated advertising spaces for the Egyptian king, and 400 distinct media outlets covered the exhibition.
The exhibition includes a number of gilded Oshabti denominations, wooden boxes, Canopian utensils, the statue of wooden ka art, and pots of Alabaster.
French Minister of Culture Franck Riester inaugurated the King Tutankhamun exhibition under "Tutankhamun, the Pharaoh's Treasures", which coincides with celebrations marking a centenary since the discovery of Tut's tomb by British archaeologist Howard Carter.
Edited translation from Al-Masry Al-Youm