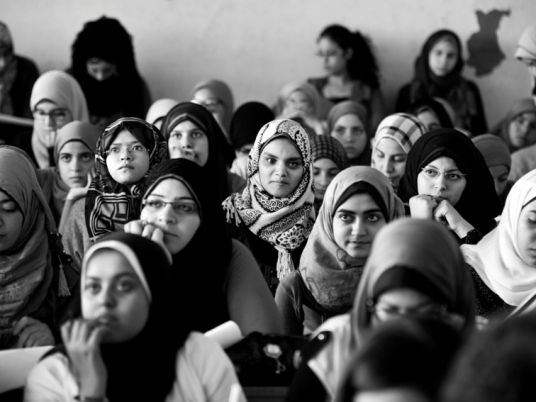 About 3.3 million Egyptian families are financially supported by women as the main breadwinner representing 14 percent of the total number of families, according to a report released by Egypt's official statistics body the Central Agency for Public Mobilization and Statistics (CAPMAS).
CAPMAS said that women's participation in the labor force reached 22.9 percent of the total labor force with ages ranging between 15 to 64, representing about one-third of the male labor force, the participation of which is 69.9 percent.
While women's unemployment rate totaled 23.6 percent compared to 8.9 percent for men in 2016, the number of women working in permanent positions is higher than men, reaching 76.5 compared to 71.1 percent for men.
According to the report, women working in the government sector is 25.8 percent compared to 74.2 percent for men.
On women's educational level, the report said that the female illiteracy rate reached 30.8 percent compared to 21.2 percent of men, while the rate of female dropouts in primary education is less than that of men, reaching 0.4 compared to 0.5.
The report also noted that it is the first time in Egypt's history that there have been six female ministers at once in the country's cabinet. In the 2018 cabinet reshuffle, Egypt assigned two female ministers to join another four in the same cabinet.
Meanwhile, CAPMAS showed that 53.9 percent of Egyptian woman are working in the health and religion sector, 29.8 percent in funds and economics, 29.4 percent in insurance and social affairs, 27.4 percent in media and culture and 17.1 percent in energy and electricity.
Moreover, about 16.3 percent of women are working in supply and interior trade and only 5.4 percent are working in oil and mining industry.
Earlier this month Niven AlKabbag, Assistant to the Minister of Social Solidarity, revealed that female-headed households in Egypt reached 25 percent. She said that at least 3.3 percent of women are business owners compared to 9.1 percent of men and 49.5 percent of women are being deprived from education, training and employment.